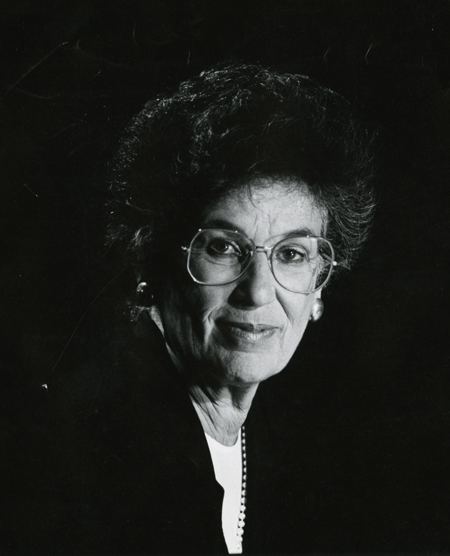 Harriett Woods
Full Name: Ruth Harriett Friedman Woods
Born: June 2, 1927
Died: February 8, 2007 (age 79)
Missouri Hometown: University City
Region of Missouri: St. Louis
Categories: Journalists, Leaders and Activists, Politicians, Women
Harriett Woods was the first female lieutenant governor of Missouri, a Democratic politician, and an advocate for women's rights. A trailblazer for women in state and national politics, Woods inspired a new generation of female politicians in America.
Ruth Harriett Friedman was born on June 2, 1927, in Cleveland, Ohio, to Armin and Ruth Wise Friedman. Harriett's father was a Hungarian immigrant who was a successful ad salesman. Her mother was a nationally ranked tennis player. Harriett's parents taught her the value of hard work, helping others, taking risks, having confidence, and being adventurous.
When Harriett was nine, the family moved to Chicago, Illinois. Athletic and competitive, she was a good student who enjoyed studying journalism. She enrolled at the University of Michigan in 1945 and majored in philosophy. During her time on campus, she became the first female managing editor of the campus newspaper.
After she graduated, Harriett sought work as a newspaper reporter. Few newspapers, however, wanted to hire a woman. Eventually Harriett was hired by the St. Louis Globe-Democrat. Decades later, her son Andrew recalled, "[It] was the only newspaper to offer her a news job, and that inability to get the job she wanted because she was a woman had a huge impact on her outlook."
Harriett married James B. Woods, a newspaper editor, on January 2, 1953. The couple made their home in University City, a suburb of St. Louis, and had three sons: Andrew, Christopher, and Peter. Woods's decision to become a stay-at-home mother, however, launched her on an unexpected career path: politician.
Woods's journey from housewife to politician began with a loose manhole cover in the street outside her home. The manhole cover rattled loudly whenever anyone drove over it, waking her children up during their naptime. When Woods asked the city government to fix the manhole, her request was ignored. In response, she gathered her neighbor's signatures on a petition that she presented to city officials. The officials listened and took care of the problem. Woods's success encouraged her to take a more active role in civic groups like the League of Women Voters as well as in the local Democratic Party.
Beginning in the early 1960s, Woods began working as a writer, moderator, producer, and talk show host on local television stations. Her programs covered serious topics such as child abuse, women's issues, civil rights, and the Vietnam War. When Woods's children were old enough to go to school, she decided to enter politics. In 1967 she was appointed to the city council to finish a council member's unexpired term. Woods was subsequently elected to two additional terms.
Seven years later Missouri's governor, Christopher "Kit" Bond, appointed Woods to the State Highway Commission and the State Transportation Committee. In 1976 she decided to run for the Missouri State Senate. At this time there were very few women serving in the legislature. Several people tried to discourage her from running for office because she was a woman, but she ignored them and won. Woods became one of only two women serving in the state senate. Treated as an outsider by many of her male colleagues, Woods persevered. She strengthened nursing home regulations, improved drunk-driving laws, and worked on education, mental health, and poverty issues.
While serving in the legislature, Woods championed the Equal Rights Amendment in Missouri. The ERA sought to amend the US Constitution to ensure equal rights for women. After it passed both houses of Congress in 1972, the amendment was sent to the states for ratification. Despite the best efforts of its supporters, the amendment was never ratified in Missouri. It fell three states shy of the necessary thirty-eight to become an amendment to the Constitution.
After eight years in the state legislature, Woods ran for the US Senate against Republican incumbent John Danforth. Democratic state party leaders, including Tom Eagleton, Missouri's other US senator, told Woods they wanted a man to run against Danforth, not a woman. Woods later told a journalist, "They were convinced a woman couldn't win statewide in Missouri and that a woman couldn't raise money for a US Senate campaign."
It was "the most difficult night of my life, deciding whether we would go it alone," she said in an interview. "I really felt strongly that if I backed off when I felt I was the most prepared person to run, it would be impossible for any woman to run statewide in Missouri without being handpicked. I'd made all those speeches to women's groups about taking risks. I just couldn't let everyone down."
Undeterred, Woods ran and won the party's nomination. Her campaign slogan, "Give them hell, Harriett!" echoed Harry S. Truman's 1948 presidential campaign slogan, "Give 'em hell, Harry." Even though she was expected to suffer a major defeat, it was the closest Senate race in the 1982 election, with Woods winning 49.1 percent of the vote compared to Danforth's 50.9 percent. Woods said years later, "In the end, what mattered for women was this: I lost, but women didn't."
Determined to forge ahead, Woods successfully ran for lieutenant governor in 1984. She became the first woman elected to statewide office in Missouri and focused on issues affecting the elderly, the poor, and minorities. In 1986 Woods ran again for the US Senate, but lost to former governor Kit Bond. After her term as lieutenant governor ended, Woods served as the president of the National Women's Political Caucus, a nonpartisan organization that works to recruit, train, and support female political candidates. She also taught classes on gender and politics at the University of Missouri–St. Louis, Pace University, and Hunter College. Woods was inducted into the St. Louis Hall of Fame in 1999.
As a state legislator, Harriett Woods helped many of Missouri's most vulnerable citizens: the homeless, the elderly, and minorities. Although Woods never achieved her goal of becoming a US senator, she inspired a new generation of women to seek public office. Her spirited Senate campaigns led to the creation of Emily's List, an influential political action group that raises money for Democratic female political candidates.
Woods once remarked, "Your best chance to move forward is to seize opportunities as they come along. Success is never guaranteed, but if you do your best, there is no absolute failure."
Harriett Woods died of leukemia in University City, Missouri, on February 8, 2007. She was seventy-nine years old.
Text and research by Kimberly Harper
References and Resources
For more information about Harriett Woods' life and career, see the following resources:
Society Resources
The following is a selected list of books, articles, and manuscripts about Harriett Woods in the research centers of The State Historical Society of Missouri. The Society's call numbers follow the citations in brackets.
"The Four Careers of Harriett Woods." St. Louis Post-Dispatch. May 7, 1967. p. J3. [Reel # 43261]
"Harriett Woods." St. Louis Post-Dispatch. February 11, 2007. p. B1.
"U. City Trailblazer." St. Louis Post-Dispatch. February 10, 2007. p. A1.
Johnson, Yvonne J. Feminist Frontiers: Women Who Shaped the Midwest. Kirksville, MO: Truman State University Press, 2010. pp. 175-194. [REF 301.412 J630]
Missouri General Assembly. Senate. Report of the State Health Care Committee on Nursing and Boarding Home Licensing in Missouri. Jefferson City, MO: Missouri General Assembly, 1978. [REF M 362.16 M691r]
Woods, Harriett. Stepping Up to Power: The Political Journey of American Women. New York: Westview Press, 2000. [REF F508.1 W863]