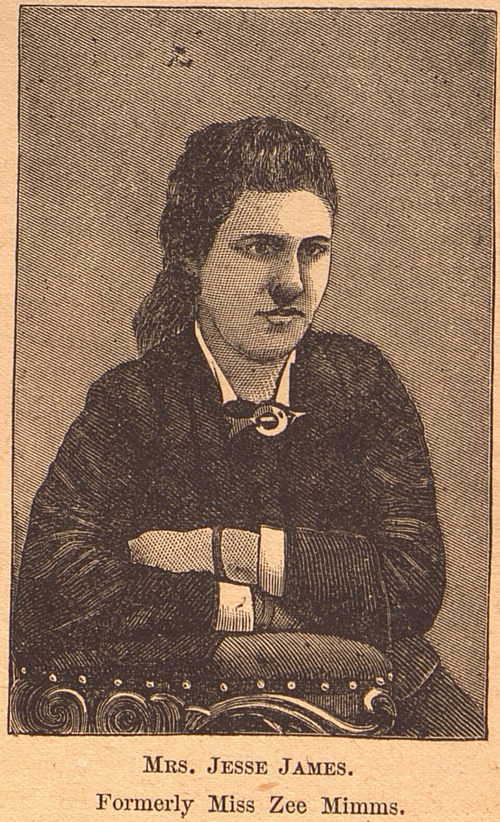 Zee James
Full Name: Zerelda "Zee" Mimms James
Born: July 21, 1845
Died: November 13, 1900 (age 55)
Missouri Hometown: Kansas City
Region of Missouri: Northwest
Categories: Folk Legends, Women
Zerelda "Zee" Mimms James was the wife and first cousin of Jesse James. She was born July 21, 1845, to John W. and Mary James Mimms. Mary James was the sister of Jesse's father. She named her daughter after Jesse James's mother. Zee nursed Jesse's war wounds in 1865 at her father's boardinghouse north of Kansas City. She was engaged to him for nine years before they married on April 24, 1874, at her sister's house in Kearney, Missouri.
Zee and Jesse James had four children, two of whom survived: Jesse Edward and Mary Susan. She and the children were present in the house when Jesse James was shot in the back of the head by Robert Ford on April 3, 1882. After Jesse's death, Zee struggled financially to raise her children. She died on November 13, 1900, in Kansas City, Missouri. She is buried beside her husband in Kearney, Missouri.
Text by Carlynn Trout with research assistance by Elizabeth E. Engel
References and Resources
For more information about Zee James's life and career, see the following resources:
Society Resources
The following is a selected list of books, articles, and manuscripts about Zee James in the research centers of The State Historical Society of Missouri. The Society's call numbers follow the citations in brackets.
"Mrs. Jesse James Breaks the Seal of Silence." Kansas City Evening Star. April 20, 1882. p. 1, c. 1-3. [Reel # 20220]
"Mrs. Jesse James: Her Arrival From St. Louis This Morning." Kansas City Evening Star. May 1, 1882. p. 1, c. 3. [Reel # 20220]
James, Stella F. In the Shadow of Jesse James. Thousand Oaks, CA: Revolver Press, 1990. [REF F508.1 J236]
McGrane, Martin Edward. The James Farm: Its People, Their Lives and Their Times. Pierre, SD: Caleb Perkins Press, 1982. [REF F508.1 J234mc2]