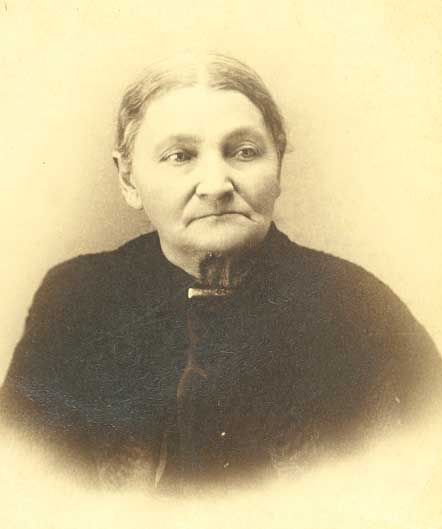 Zerelda Cole James Samuel
Born: January 29, 1825
Died: February 10, 1911 (age 86)
Missouri County: Clay
Region of Missouri: Northwest
Categories: Folk Legends, Women
Zerelda Cole James Samuel was the mother of the outlaw Jesse James. She was born Zerelda Elizabeth Cole on January 29, 1825, in Woodford County, Kentucky, to James and Sarah Cole. Her father was killed in a horse accident when she was two. In 1839 fourteen-year-old Zerelda entered a Catholic school for girls. She met Robert James, a college student, and they were married on December 20, 1841.
In 1842 Zerelda and Robert moved to Clay County, Missouri, to live with her mother and stepfather. After the birth of her first child, Zerelda moved to the farm where she would live the rest of her life. Zerelda bore four children with Robert James: Frank, Robert, Jr., who died shortly after birth, Jesse, and Susan.
After suffering the death of her husband Robert, Zerelda married Benjamin Simms briefly, then a doctor named Reuben Samuel in 1855. She had several children with Dr. Samuel.
Zerelda Cole James Samuel was a Confederate sympathizer who fiercely defended her son Jesse's guerrilla activities. In 1875 she was maimed when Pinkerton agents threw a firebomb into her farmhouse in the hope of catching Jesse. After Jesse's death, Zerelda had him buried on her property. She lived the rest of her life in the shadow of her son's controversial legacy. She died on February 10, 1911.
Text by Carlynn Trout with research assistance by Elizabeth Engel
References and Resources
For more information about Zerelda Cole James Samuel's life and career, see the following resources:
Society Resources
The following is a selected list of books, articles, and manuscripts about Zerelda Cole James Samuel in the research centers of The State Historical Society of Missouri. The Society's call numbers follow the citations in brackets.
James, Stella F. In the Shadow of Jesse James. Thousand Oaks, CA: Revolver Press, 1990. [REF F508.1 J236]
McGrane, Martin Edward. The James Farm: Its People, Their Lives and Their Times. Pierre, SD: Caleb Perkins Press, 1982. [REF F508.1 J234mc2]
Outside Resources
These links, which open in another window, will take you outside the Society's website. The Society is not responsible for the content of the following websites: