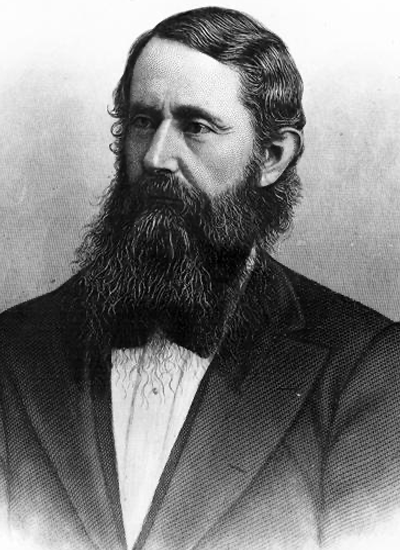 B. Gratz Brown
Full Name: Benjamin Gratz Brown
Born: May 28, 1826
Died: December 13, 1885 (age 59)
Missouri Hometown: St. Louis
Regions of Missouri: Central, St. Louis
Category: Politicians
B. Gratz Brown, lawyer, Missouri legislator, United States senator, and Missouri governor, came of age in a politically and emotionally charged period of American history. His life demonstrates the radically different attitudes Americans had regarding slavery and Southern sympathizers.
Benjamin Gratz Brown was born on May 28, 1826, in Lexington, Kentucky, to Mason Brown and Judith Bledsoe Brown. His mother died in 1827, and he and his father moved to Frankfort, Kentucky, to live at Liberty Hall, the family estate.
Benjamin attended Transylvania University in 1841 and went to Yale College in 1845. After graduating in 1847, he moved back to Kentucky to practice law with his father and attend the Louisville Law School. In 1849 he moved to St. Louis, Missouri, and joined the law office of his cousins, the politically prominent Frank and Montgomery Blair.
Brown became active in politics during the 1850s. He was elected to the state legislature from St. Louis in 1852 and again in 1854 and 1856. In 1854 he became the editor in chief of former U.S. Senator Thomas Hart Benton's paper, the Missouri Democrat, where he continued to express his opinions on the slavery question and the Free Soil Party. This political party was against expanding slavery into the territories, believing that free men on free soil were better for a strong economy. Like Benton, Brown was against slavery, but for economic reasons rather than moral ones. His position on slavery would change throughout the war period.
Brown's political views caused some to react very violently. Such was the case with future lieutenant governor Thomas C. Reynolds, who challenged Brown to a duel after the two swapped insults in Missouri newspapers. The duel occurred on August 26, 1856, and resulted in Reynolds walking away unharmed and Brown being shot in the knee.
A fight with his cousin Frank ended Brown's career on the paper, and he lost his bid for reelection to the Missouri legislature in 1858, largely because of his controversial opinions. In that same year, Brown married Mary Hansome Gunn of Jefferson City, and the couple had eight children.
Brown led a regiment for three months when the American Civil War began in 1861. He then joined the Radical Republican Party, which believed in the complete abolition of slavery and punishment of Southern sympathizers. In 1863 he was elected by the Missouri state legislature to fill a vacant U.S. Senate seat. While a senator, Brown focused on economic issues, securing reimbursements for the state for military expenses, obtaining money to build the Eads bridge in St. Louis, and developing railroad and telegraph lines.
After the war, Brown changed his politics once again. He no longer shared the Radical Republican sentiment that limited the civil rights of Southerners. He believed in voting rights for everyone, including women, as well as amnesty for former rebels. Brown did not seek reelection to his U.S. Senate seat. Instead, he moved to Ironton, Missouri, where he leased a quarry.
Brown reemerged from his short break from politics as the gubernatorial nominee for the new Liberal Republican Party. He beat the Radical Republican candidate Joseph McClurg and became the governor of Missouri in 1870. He built the much-needed governor's mansion in Jefferson City, supported public education, and reformed the criminal system. In 1872 Brown became the vice-presidential candidate on the ticket with Horace Greeley. They lost the election to Ulysses S. Grant, and the Liberal Republican Party ended.
Brown became a Democrat and went back to his law practice. He changed political parties six times as his sentiments toward slavery and secessionists evolved throughout the Civil War and Reconstruction era. Above all, Brown remained loyal to the Union, and his work as a politician focused on improving the lives of Missourians. He died of pneumonia and heart disease in Kirkwood, Missouri, on December 13, 1885, and is buried in the Oak Hill Cemetery.
Text and research by Laura R. Jolley
References and Resources
For more information about B. Gratz Brown's life and career, see the following resources:
Society Resources
The following is a selected list of books, articles, and manuscripts about B. Gratz Brown in the research centers of The State Historical Society of Missouri. The Society's call numbers follow the citations in brackets.
"Gratz Brown on Grant." Jefferson City People's Tribune. July 26, 1871. p. 2, c. 3. [Reel # 16512]
Obituary. Jefferson City Daily Tribune. December 15, 1885. p. 2, c. 1. [Reel # 17234]
Speech. Jefferson City People's Tribune. February 28, 1872. p. 1 c. 7. [Reel # 16512]
"Speech of Hon. B. Gratz Brown on the Political Issues of the Times." Daily Missouri Republican. September 23, 1865. p. 2, c. 2. [Reel # 41412]
Christensen, Lawrence O., William E. Foley, Gary R. Kremer, and Kenneth H. Winn, eds. Dictionary of Missouri Biography. Columbia: University of Missouri Press, 1999. pp. 121-124. [REF F508 D561]
Peterson, Norma L. Freedom and Franchise: The Political Career of B. Gratz Brown. Columbia: University of Missouri Press, 1965. [REF F508.1 B812p]