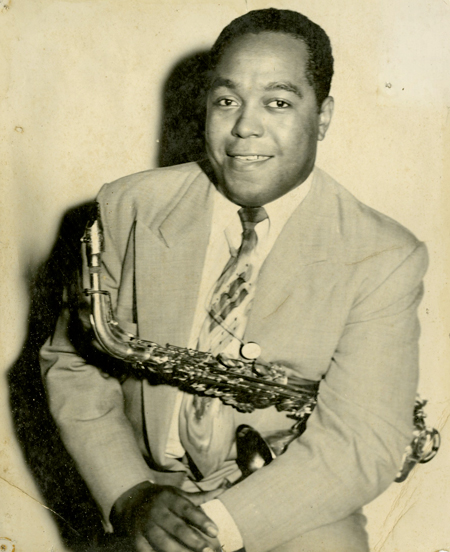 Charlie "Bird" Parker
Full Name: Charles Christopher Parker, Jr.
Born: August 29, 1920
Died: March 12, 1955 (age 34)
Missouri Hometown: Kansas City
Region of Missouri: Kansas City
Categories: African Americans, Musicians
Charlie Parker was a pioneering jazz saxophonist and composer, famous for his role in founding the innovative bebop style of jazz in the early 1940s. He was born on August 29, 1920, in Kansas City, Kansas, to Charles Parker, Sr. and Addie Boxley Parker. He moved with his parents to Kansas City, Missouri, in 1927. There Charlie attended Penn School and Sumner School. After his parents split up in 1932 due to his father's alcoholism, Charlie moved in with his mother. He attended Lincoln High School the next year. After joining the school's renowned band program, Charlie was inspired to play his alto saxophone every day for hours on end, much to the irritation of his neighbors.
In those years the corrupt Pendergast political machine controlled Kansas City. The machine allowed hundreds of nightclubs across the city to operate late into the night. Any number of illegal activities occurred at the clubs, including sales of alcohol, which were supposed to be banned during the Prohibition era. But the clubs supported a vibrant music scene, and musicians flocked to play at them. Since Addie worked nights, Charlie was free to club hop. He dabbled in drugs and saw professional jazz players, like the legendary pianist Count Basie, perform. In 1935, Charlie began playing professionally and dropped out of school at the age of fifteen.
In 1936, after struggling to keep up while sitting in with one of Count Basie's groups, Parker left the stage after someone angrily threw a cymbal at his feet. He then withdrew from the Kansas City music scene. Not yet sixteen, and still living with his mother, Parker married his high school sweetheart, Rebecca Ruffin, on July 25, 1936. That November he traveled with a group to the Lake of the Ozarks to play at a club. On the trip, the car Parker was in wrecked, causing severe injuries to his spine and ribs. The accident had two important consequences: the club owner bought him a new saxophone, and his doctor put him on heroin to relieve his pain. He got addicted to both.
During the summer of 1937, Parker played at the club where he had been scheduled to perform at the time of his accident the previous year When he returned to Kansas City in the fall, he was a completely different player. People who had made fun of him now sought him out to play solos at their shows. Asked to join the outfit of Buster Smith, a locally renowned alto saxophonist, Parker became a celebrity in Kansas City when Smith's band began playing shows for local radio. But although he cleaned up his act for a time after the birth of his son in 1938, Parker's addictions soon made him unreliable and hard to work with. He was unfaithful to Rebecca and became abusive toward her, so his mother kicked him out of the house. Homeless and jobless, Parker left for New York in 1939.
In New York, Parker reunited with Buster Smith, got a job busing tables in a restaurant, and jammed with other musicians. He developed a quicker, more complex, highly improvisational technique of soloing that became the hallmark of bebop. While other saxophonists, such as Coleman Hawkins, had hinted at the bebop style, Charlie Parker fully explored its possibilities. Around the same time, Charlie picked up his legendary nickname. Although there are several legends concerning the origin of Parker's nickname, most of them relate to his voracious appetite for chicken, which he called "yardbird." Charlie's bandmates started calling him "Yardbird," and eventually shortened it to "Bird."
In 1940, Charlie briefly reconciled with Rebecca in Kansas City. His career blossomed after taking a job with pianist Jay McShann's band, which became the first African American band allowed to play at a dance at the University of Missouri. Shortly thereafter, Parker left his family to pursue his career. He joined pianist Earl Hines's band in New York in 1942 and collaborated closely with another bebop pioneer, trumpeter Dizzy Gillespie. Gillespie and Parker would go on to perform and record with other emerging bebop artists such as percussionists Kenny Clarke and Max Roach, trumpeter Miles Davis, bassists Curly Russell and Charles Mingus, and pianists Thelonious Monk and Bud Powell. Together, these jazz artists started a musical revolution.
With the success of bebop, Charlie Parker's reputation as a musician grew. However, his addictions to drugs and alcohol, along with his emotional instability, continued to sabotage his success. He was constantly out of money and often resorted to selling his saxophone to get money for drugs. He married three more times and had three more children. He was regularly late or failed to show up at all for recording sessions and performances, and his addictions often caused his playing to suffer. By the time of his death, Parker had been hospitalized several times due to both physical and mental illnesses, and had attempted suicide twice.
Charlie Parker passed away at the age of thirty-four at a friend's house in New York City after a short battle with pneumonia. Misled by the damage that drug and alcohol abuse had done to Parker's body, the attending physician at the time of his death guessed that Parker's age was fifty-three. Despite his short life, Parker is widely cited as one of the most innovative and influential musicians in American history. He has won several posthumous awards, including a Grammy Lifetime Achievement Award for his contributions to American music.
Text and research by Todd Barnett
References and Resources
For more information about Charlie Parker's life and career, see the following resources:
Society Resources
The following is a selected list of books, articles, and manuscripts about Charlie Parker in the research centers of The State Historical Society of Missouri. The Society's call numbers follow the citations in brackets.
"Charlie Parker, 'I Was His First, He Was My First, It Was All Very Special.'" Kansas City Pitch Weekly. April 10, 1996. p. 1. [Reel # 19578]
"Names Make News." Kansas City Call. December 9, 1938. p. 8. [Reel # 18751]
"Running the Scale." Kansas City Call. July 25, 1952. p. 8. [Reel # 56514]
"Woody Herman, 'Yardbird' Perform in Best 'Show Must Go On' Tradition." Kansas City Call. July 27, 1951. p. 9. [Reel # 18782]
"Awesome Tribute in Bronze and Jazz." Kansas City Star. April 14, 1999. p. G9. [REF Vertical File]
"Charlie 'Bird' Parker." Kansas Heritage. v. 9, no. 1 (Spring 2001), p. 23. [REF Vertical File]
Driggs, Frank, and Chuck Haddix. Kansas City Jazz: From

Ragtime

to Bebop—A History. New York: Oxford University Press, 2005. [REF H128.71 D832]
Haddix, Chuck. Bird: The Life and Music of Charlie Parker. Chicago: University of Illinois Press, 2013. [REF F508.1 P2229h]
Hodeir, André. Jazz: Its Evolution and Essence. New York: Da Capo Press, 1975. [REF 785.42 H66 1975]
Kansas City Jazz Museum. Kansas City . . . and All That's Jazz. Kansas City: Andrews McMeel Publishing, 1999. [REF H128.71 K133]
Owsley, Dennis. City of Gabriels: The History of Jazz in St. Louis, 1895–1973. St. Louis: Reedy Press, 2006. [REF H235.71 Ow6]
Priestley, Brian. Chasin' the Bird: The Life and Legacy of Charlie Parker. New York: Oxford University Press, 2006. [REF F508.1 P2229]
Rose, Don. "Bird Lives: Year 44." JAM (Jazz Ambassadors Magazine). v. 13, no. 2 (April-May 1999), pp. 20–30. [REF H128.71 J339jam]
Russell, Ross. Jazz Style in Kansas City and the Southwest. Berkeley: University of California Press, 1971. [REF H128.71 R917]
Outside Resources
These links, which open in another window, will take you outside the Society's website. The Society is not responsible for the content of the following websites:
Charlie Parker: 'Bird Lives!' Part 1
This webpage from NPR Music, a division of the National Public Radio website, contains the first part of a biography and audio documentary of Charlie Parker.
Charlie Parker: 'Bird Lives!' Part 2
This webpage from NPR Music, a division of the National Public Radio website, contains the second part of a biography and audio documentary of Charlie Parker.
Smithsonian Jazz
This webpage from the Smithsonian's National Museum of American History has a searchable database with links to several articles and interviews that reference Charlie Parker.