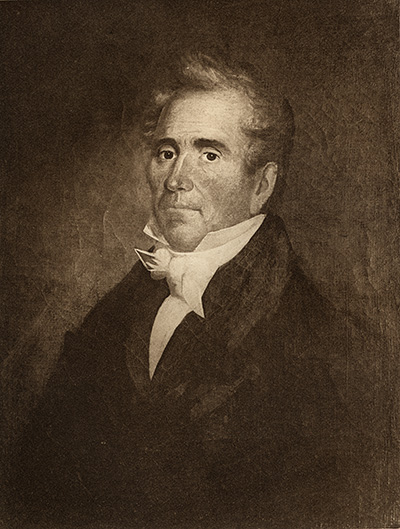 Manuel Lisa
Born: September 8, 1772
Died: August 12, 1820 (age 47)
Missouri Hometown: St. Louis
Region of Missouri: St. Louis
Categories: Entrepreneurs, Explorers and Settlers
Manuel Lisa was a merchant and fur trader. In 1807 Lisa led the first trading expedition to the upper Missouri River in what is now Montana in search of new trading and fur-trapping opportunities. An ambitious risk-taker, Lisa told William Clark, "I go a great distance, while some are considering whether they will start today or tomorrow." He became an important figure in the fur trade but died without achieving the financial success he sought.
Manuel Lisa was born on September 8, 1772, in New Orleans to Christobal de Lisa and Maria Ignacia Rodriguez Lisa. His father, a native of Murcia, Spain, worked for the Spanish government. Very little is known about Lisa's early life and education.
In 1796 Lisa married Polly Charles Chew and became stepfather to her daughter Rachel. Together the couple had two sons, Raymond and Manuel. Three years later, in 1799, Lisa and his family settled permanently in St. Louis, then a small village. Its location near the confluence of the Missouri and Mississippi rivers made it the center of the thriving fur trade.
One of the oldest industries in North America, the fur trade began when Europeans traded goods such as tools and firearms with Native Americans in exchange for furs and pelts. Beaver pelts were used to make felt hats and provide trim for clothing worn by wealthy and fashionable Americans and Europeans.
Europeans and, later, Americans organized fur-trading companies that employed men to trap fur-bearing animals for their pelts and hides, though companies continued to trade goods with Indians for hides. Overtrapping led to the decline of fur-bearing animals in the eastern half of North America, forcing fur trappers to travel farther west to find new, unexploited animal populations.
The prominent and powerful Chouteau family of St. Louis held a firm grip on much of the western fur trade, but Lisa was determined to enter the lucrative business. Using information gathered from Lewis and Clark upon their return to St. Louis in 1806, Lisa and his men traveled to the headwaters of the Missouri River in what is now Montana in search of new fur trapping opportunities. At the junction of the Bighorn and Yellowstone rivers he established Fort Raymond, the first trading post in the region.
Emboldened by the promise of the upper Missouri River region, Lisa returned to St. Louis and partnered with leading citizens such as William Clark, Pierre Chouteau, and Auguste Pierre Chouteau to form the Missouri Fur Company. He personally led each of the company's expeditions, but the venture experienced financial problems and opposition from hostile Indian tribes, leading to the company's failure.
In 1812 William Clark, then governor of the Missouri Territory, appointed Lisa an Indian subagent. As a subagent, Lisa served as a representative of the federal government to Native American tribes. While working among the Omaha, Lisa married the chieftain's daughter, Mitain, even though he was still married to his first wife, Polly. It was not uncommon for men in the fur trade to marry Native American women because it helped solidify trade agreements between traders and tribes. The couple had two children together, Rosalie and Christopher.
After Polly Lisa's death in 1818, Lisa married a widow named Mary Hempstead Keeney. The following year, Lisa reestablished the Missouri Fur Company, but it failed once more. In debt, Lisa died of an unknown illness in St. Louis on August 12, 1820, and is buried in Bellefontaine Cemetery.
By spearheading the first commercial expedition to the upper Missouri River region, Manuel Lisa helped expand the western fur trade. Although he was financially unsuccessful, Lisa's efforts helped his successors, among them the American Fur Company and the Rocky Mountain Fur Company, to flourish.
Text and research by Kimberly Harper
References and Resources
For more information about Manuel Lisa's life and career, see the following resources:
Society Resources
The following is a selected list of books, articles, and manuscripts about Manuel Lisa in the research centers of The State Historical Society of Missouri. The Society's call numbers follow the citations in brackets.
"Death notice." St. Louis Missouri Gazette. August 16, 1820. p. 3, c. 5. [Reel # 41287]
"Denies charges of dishonesty and neglect as assistant Indian agent of the Missouri Territory." St. Louis Missouri Gazette. July 5, 1817. p. 3, c. 5. [Reel # 41285]
"Manuel Lisa offers resignation as sub-agent for Indians. Detailed account of his dealings with the Indians." St. Louis Missouri Gazette. July 5, 1817. p. 2, c. 3. [Reel # 41285]
"Manuel Lisa returns to St. Louis from Fort Lisa with valuable cargo of furs." St. Louis Missouri Gazette. June 14, 1817. p. 3, c. 4. [Reel # 41285]
"Marriage of Mary Keeney (nee Hempstead) to Manuel Lisa." St. Louis Missouri Gazette. August 7, 1818. p. 3, c. 4."Returns to St. Louis with group of Sioux chiefs and other northern tribes for a council with Gov. Clark." St. Louis Missouri Gazette. June 10, 1815. p. 2, c. 4. [Reel # 41285]
Brackenridge, H.M. Views of Louisiana. Together with a Journal of a Voyage up the Missouri River, in 1811.Chicago: Quadrangle Books, 1962. [REF F515 B725 1962]
Christensen, Lawrence O., William E. Foley, Gary R. Kremer, and Kenneth H. Winn, eds. Dictionary of Missouri Biography. Columbia: University of Missouri Press, 1999.  pp. 493-494.  [REF F508 D561]
Dillon, Richard H. "Meriwether Lewis, Manuel Lisa, and the Tantalizing Santa Fe Trade." Montana: The Magazine of Western History. v. 17 (Spring 1967), pp. 46-52. [REF 978.6 M762 v.17 (1967)]
Douglas, Walter B. Manuel Lisa. New York: Argosy-Antiquarian, 1964. [REF F508.1 L681d]
Oglesby, Richard E. Manuel Lisa and the Opening of the Missouri Fur Trade.  Norman: University of Oklahoma Press, 1963. [REF F508.1 L681]
Dougherty, John (1791-1860), Letter Book, 1826-1829 (C2292)
The Dougherty letter book contains letters from Dougherty, fur trader, interpreter, and Upper Missouri Indian agent, to William Clark, superintendent of Indian affairs at St. Louis, various U.S. Army officers, Indian agents, interpreters and fur traders, U.S. War and Treasury Department officials, Missouri politicians, and private citizens. Folders 3 and 29 contain references to Manuel Lisa.
U.S. Superintendency of Indian Affairs, St. Louis, Records, 1807-1855 (C2969)
The records contain correspondence, account books, and treaties with various Indian tribes. Much of the material is to and from Indian agents at the area agencies. The bulk of the material is from the period when William Clark was superintendent. Also included are records of the Missouri Fur Company, 1812-1817. Volume 30 contains the signature of Manuel Lisa.
Outside Resources
These links, which open in another window, will take you outside the Society's website. The Society is not responsible for the content of the following websites:
Manuel Lisa Papers (A0918)
The papers of Manuel Lisa are located at the Missouri History Museum in St. Louis. This site provides a brief description of the collection.