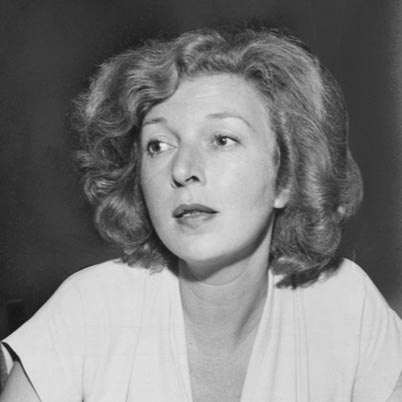 Martha Gellhorn
Born: November 8, 1908
Died: February 15, 1998 (age 89)
Missouri Hometown: St. Louis
Region of Missouri: St. Louis
Categories: Journalists, Travelers, Women, Writers
Introduction
Martha Gellhorn was a journalist and one of the first female war correspondents. Beginning in 1937 with the Spanish Civil War, she reported on several of the most significant conflicts of the twentieth century, including World War II and the Vietnam War. She once wrote, "Journalism is education for me. The readers, if any, may get some education too but the big profit is mine. Writing is payment for the chance to look and learn."
Early Years and Education
Martha Gellhorn was born on November 8, 1908, in St. Louis, Missouri, to Dr. George and Edna Fischel Gellhorn. She was the third of the couple's four children and their only daughter. George Gellhorn was a prominent physician and professor of medicine at Washington University. Edna was an influential civic leader, social reformer, and suffragist.
Martha graduated from the John Burroughs School in St. Louis. She attended Bryn Mawr College in Bryn Mawr, Pennsylvania, but left without graduating. She became a journalist, working for the New Republic, a progressive political magazine, and then for a newspaper, the Albany Times Union in New York.
Gellhorn returned to St. Louis after a family friend told her that her parents were worried about her, but she soon became bored and restless in her hometown. When she was twenty-one years old, she left the United States, arriving in France with $75, a typewriter, and a couple of suitcases. Gellhorn headed for Paris, a popular destination for young American writers and artists, many of whom later became famous. Americans in Paris at that time included F. Scott Fitzgerald, Ernest Hemingway, Man Ray, and T. S. Eliot.
Gellhorn visited the New York Times bureau office in search of a job, but the bureau chief laughed at her and turned her down. Undeterred, she eventually got a job with the United Press news service. Gellhorn was fired, however, after she complained to her boss that a man affiliated with UP had harassed her. Unlike today, there was little if any protection from sexual harassment in the workplace in the 1920s and 1930s.
In 1930 she met and fell in love with Bertrand de Jouvenal, a French intellectual. Over the next few years, Gellhorn traveled back and forth between the United States and France, writing for publications like the St. Louis Post-Dispatch and Vogue, a women's fashion magazine. She published her first novel, What Mad Pursuit, in 1934.
The
Great Depression
While in the United States, Gellhorn was hired as an investigator for the Federal Emergency Relief Administration (FERA). She traveled throughout the country documenting the effect of the Great Depression on everyday Americans. It was at this time that she became lifelong friends with First Lady Eleanor Roosevelt.
Gellhorn was fired after she successfully encouraged a group of workers to riot against a corrupt contractor in Coeur d'Alene, Idaho. She turned her experiences into her second book, The Trouble I've Seen, which was published in 1936.
In 1935, Gellhorn met American writer Ernest Hemingway while on vacation in Key West, Florida. Together they traveled to Spain, where she reported on the rise of fascism and the Spanish Civil War. Six years later she married Hemingway and then traveled to China to cover its war with Japan for the magazine Collier's Weekly.
Over the next few years, her relationship with Hemingway soured. She traveled to Britain to cover World War II. As the Allies prepared to invade Nazi-occupied France in 1944, Gellhorn wanted to be there when it happened. The US military, however, did not want women correspondents reporting from the front lines because it was dangerous. Undaunted, Gellhorn snuck onto a civilian hospital ship. As the invasion of Normandy got under way, she helped the ship's medical staff take care of the wounded and later went ashore with ambulance crews. She was the first female journalist at D-Day.
In 1945 Gellhorn was present when the US Seventh Army liberated the Dachau concentration camp, and the experience deeply affected her for the rest of her life. She later reported on the prosecution of Nazi war criminals at the Nuremberg trials in Nuremberg, Germany.
After the war ended, she divorced Hemingway and lived in Cuernavaca, Mexico. In 1949, Gellhorn adopted a boy from an Italian orphanage and named him George Alexander, although she called him "Sandy." She married fellow journalist and editor T. S. Matthews in 1954, but the couple divorced nine years later after she discovered that he was unfaithful to her.
In 1966 Gellhorn reported on the Vietnam War for The Guardian, a British newspaper. She was so critical of the United States, however, that she was not allowed back into Vietnam to continue reporting on the war. The following year Gellhorn covered the Six-Day War between Israel and neighboring Arab nations. During the later years of her life, she lived in Kenya, Italy, Wales, and London, England, and focused on writing short stories and novels.
Old age did not slow Gellhorn down. At eighty-one she reported on the US invasion of Panama in 1989. She also published a number of novels and books about her experiences traveling and reporting around the world, but avoided mentioning her famous ex-husband Ernest Hemingway. "I was a writer before I met him, and I have been a writer for 45 years since. Why should I be a footnote to someone else's life," she wrote.
After a long battle with liver and ovarian cancer, Gellhorn committed suicide on February 15, 1998, in London. She had documented many of the most influential events of the twentieth century. She continues to be an inspiration to countless female journalists and war reporters who have followed in her footsteps on the battlefield.
Text and research by Brooke Leisinger and Kimberly Harper
References and Resources
For more information about Martha Gellhorn's life and career, see the following resources:
Society Resources
The following is a selected list of books, articles, and manuscripts about Martha Gellhorn in the research centers of The State Historical Society of Missouri. The Society's call numbers follow the citations in brackets.
Gellhorn, Martha. Travels with Myself and Another. New York: Dodd, 1979. [REF F508.1 G281]
Gellhorn, Martha. The Trouble I've Seen. New York: Morrow, 1936. [REF I G283t]
Gellhorn, Martha. What Mad Pursuit: A Novel. New York: Frederick A. Stokes Company, 1934. [REF I G283w]
Outside Resources
These links, which open in another window, will take you outside the Society's website. The Society is not responsible for the content of the following websites:
Gellhorn, Martha. The Face of War. New York: Simon & Schuster, 1959.
Martha Gellhorn Collection
Martha Gellhorn's personal papers are at Boston University's Howard Gotlieb Archival Research Center.
Moorehead, Caroline. Gellhorn: A Twentieth-Century Life. New York: Henry Holt & Co., 2003.
Moorehead, Caroline, ed. Selected Letters of Martha Gellhorn. New York: Henry Holt & Co., 2006.