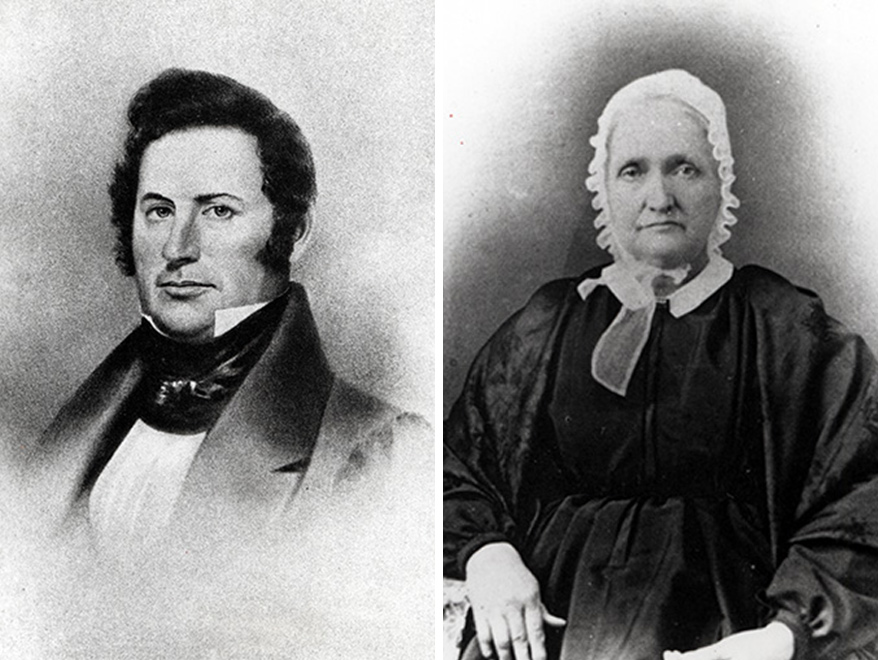 Richard and Ann Hawkins Gentry
Richard Gentry (1788–1837)
Ann Hawkins Gentry (1791–1870)
Missouri Hometown: Columbia
Region of Missouri: Central
Categories: Explorers and Settlers, Leaders and Activists, Military Leaders, Politicians, Women
Introduction
Richard and Ann Hawkins Gentry were early settlers in Missouri and played an important role in establishing Columbia, Missouri. Richard Gentry, a career military officer, served as the city's first mayor. Ann Hawkins Gentry operated the family's thriving tavern. Both Richard and Ann served as postmaster of Columbia. The city of Columbia would not be the same today without the influence of these Missouri pioneers.
Richard Gentry, Jr. was born in Madison County, Kentucky, on August 21, 1788. His father, Richard Gentry, Sr., was a soldier in the Revolutionary War. Richard followed in his father's footsteps and was commissioned a lieutenant in the Nineteenth Regiment of the Kentucky State Militia at the age of nineteen.
Ann Hawkins was born on January 21, 1791, in Madison County, Kentucky. She was the daughter of Nicholas Hawkins, a Revolutionary War veteran, and Ann Robinson Hawkins. On February 10, 1810, she married Richard Gentry, and the couple settled on a farm in Madison County, Kentucky. Their first child, Ann Eliza, was born in 1810. Together they had thirteen children. Nine survived to adulthood.
Gentry's military service often kept him away from his family for long periods of time, leaving Ann to care for the farm and children by herself. He served during the War of 1812 but did not participate in any major battles.
Around 1815, Richard Gentry's brother, Reuben, bought land in the Missouri Territory near the current site of Boone County. Richard Gentry decided to join him in 1816 and moved his family west to St. Louis. Ann rode a thoroughbred racing mare all the way to Missouri with her infant daughter, Dorothy Ann, on her lap.
Creating a Town
The Gentrys lived for a year in St. Louis, where they met and became good friends with future Senator Thomas Hart Benton. In 1818 the family moved to Franklin, a bustling settlement on the Missouri River near Boonville. Gentry, like many men of his era, became a land speculator. He soon clashed with Henry Carroll, the acting registrar of lands for the District of Howard County, Missouri.
Carroll, filling in for his father until he could travel to Missouri and assume his duties as registrar of lands, suspected Gentry of shady real estate transactions. Gentry accused Carroll of illegally purchasing land, though the allegation proved false. Embarrassed, Gentry threatened to cane Carroll.
The animosity between the two men came to an end on February 29, 1820. When Gentry discovered that Carroll was riding to Fort Hempstead, he jumped on a horse and chased after Carroll, telling a stable hand he intended to cane Carroll. Gentry confronted Carroll in the road where the two men exchanged heated words in full view of nearby onlookers. Gentry then pulled out his pistol and shot Carroll, who subsequently died of his wounds.
After the shooting, the Gentry family moved to Smithton, a small settlement on land that is now at the center of present-day Columbia. Richard built a three-room log cabin in Smithton, from which he operated a tavern. Those early days were difficult for Ann as Smithton was located in the middle of the wilderness. There was no access road for supplies and the ground was too rocky to dig a well.
The following year, Richard Gentry was indicted by a grand jury for the murder of Henry Carroll. He hired a team of lawyers, including Thomas Hart Benton, to defend him. Gentry was found not guilty despite evidence he shot Carroll in the back.
In 1821 Smithton was abandoned. The Gentrys moved about a mile east to the new town of Columbia. Richard opened a new tavern just off Broadway and purchased land at the corner of Seventh and Cherry streets for his farm and stable.
As he had done in Kentucky, Richard Gentry joined the militia in Missouri. He was elected the first mayor of Columbia in 1821 and a Missouri state senator in 1826. Hoping to become wealthy, Gentry engaged in overland trade along the Santa Fe Trail. He was gone for months at a time, leaving Ann to run the farm and tavern on her own.
In 1830 Richard Gentry was appointed postmaster of Columbia by President Andrew Jackson. Ann helped at the post office while also maintaining the home, raising the children, and overseeing the tavern. In 1832 Richard was promoted to the rank of major general in the Missouri State Militia and left the state to command troops fighting in the Black Hawk War. Meanwhile, Ann took over the day-to-day operations of the post office. Richard Gentry returned in 1833 and was elected chairman of a group dedicated to the education of Columbia women. From that meeting, the Columbia Female Academy was formed—the beginning of what is now known as Stephens College.
In 1835 the United States launched a military campaign against the Seminoles in Florida. Gentry raised a volunteer regiment of Missourians to serve during the conflict. Although he was a major general in the state militia, he was commissioned a colonel of volunteers.
Gentry and the regiment departed from St. Louis on October 15, 1837, and upon their arrival in Florida they were placed under the command of a future U.S. president, Colonel Zachary Taylor.
On Christmas Day in 1837, Taylor ordered Gentry and his men into action against the Seminoles. Taylor brushed aside Gentry's suggestion that they should attack the enemy's flanks and ordered a frontal assault. Gentry took his place at the head of his troops and led his men into battle. He was killed while advancing toward Seminole fighters at what is now known as the Battle of Lake Okeechobee. Initially buried on the battlefield, his remains were returned to Missouri in 1839 and buried at the Jefferson Barracks in St. Louis. Upon hearing the news of her husband's death, Ann Hawkins Gentry reportedly said, "I'd rather be a brave man's widow than a coward's wife."
With the death of her husband, Ann Hawkins Gentry was left alone to raise the children as well as manage the family tavern and the city post office. She was provided with a widow's pension of $30 per month, which she used to pay off her husband's outstanding debts. In 1838 she was also appointed as Columbia's new postmistress, becoming only the second woman in the United States to receive that distinction. Because of her efforts, Columbia's post office became the third most important in Missouri.
For the next thirty years, Ann Hawkins Gentry served as Columbia's postmistress and cared for both her children and grandchildren. She raised a grandson after her daughter Martha died in childbirth. In 1853 she moved the tavern and post office into a two-story building on the corner of Ninth Street, using the front for the post office and the back half for the tavern.
Ann Hawkins Gentry served as Columbia's postmistress until 1865. She died five years later on January 18, 1870, and is buried in Columbia Cemetery. Her lifetime of hard work allowed her to save $20,000, which was divided among her children.
Gentry County, Missouri, was named in Richard Gentry's honor in 1841. In 1960 the Ann Hawkins Gentry Roadside Park was dedicated in Gentry County. On October 29, 1977, the City of Columbia rededicated its building at South Seventh Street as the Ann Hawkins Gentry Building. In 1993 Ann Hawkins Gentry Middle School opened in Columbia.
The lives of Richard and Ann Hawkins Gentry reflect the experience of many early Missouri pioneers who blazed a trail across the state to help found cities and towns under difficult circumstances.
Text and research by Jeremy Hulshof
References and Resources
For more information about the lives and careers of Richard and Ann Hawkins Gentry, see the following resources:
Society Resources
The following is a selected list of books, articles, and manuscripts about Richard and Ann Hawkins Gentry in the research centers of The State Historical Society of Missouri. The Society's call numbers follow the citations in brackets.
"Ann Hawkins Gentry: Columbian of Courage." Columbia Tribune. October 16, 1977. p. 17. [Reel # 8407]
"Columbia Hotel." The Missouri Intelligencer. January 31, 1835. p. 3, c. 5. [Reel # 7540]
"First US Postmistress." Kansas City World. December 20, 1896. p. 16. [Reel # 24235]
"First US Postmistress Served in Local Office." University Missourian. November 29, 1915. p. 3, c. 1. [Reel # 8827]
"Honor to the Remains." The Missouri Argus. May 10, 1839. p. 2, c. 4, 6. [Reel # 55151]
"MO Volunteers." The Missouri Argus. April 19, 1838. p. 3, c. 3. [Reel # 55151]
"A New Postmaster, Resignation of Mrs. Gentry." Jefferson City Peoples' Tribune. November 22, 1865. p. 1, c. 8. [Reel # 16510]
Christensen, Lawrence O., William E. Foley, Gary R. Kremer, and Kenneth H. Winn, eds. Dictionary of Missouri Biography. Columbia: University of Missouri Press, 1999. pp. 332-334. [REF F508 D561]
Clark, Helen M. Christmas in the Swamp at Okeechobee. Columbia: n.p., 1957 [REF I C5481c]
Crighton, John C. Ann Hawkins Gentry: Woman of Courage. Columbia: City Press, 1977. [REF F508.1 G2895]
Dains, Mary K., ed. Show Me Missouri Women: Selected Biographies.Vol. 1. Kirksville, MO: Thomas Jefferson University Press, 1989. pp. 16-17. [REF F508 Sh82 v.1]
The Gentry Family Gazette and Genealogy. Multiple Issues. [REF Vertical File on Gentry Family F9]
Gentry, Richard. The Gentry Family in America: 1676 to 1909. New York: Grafton Press, 1909. [REF F508.2 G289]
Gentry, Thomas B. Souvenir of General Richard Gentry: A Missouri Pioneer and Soldier. Kansas City: Unknown, 1899 [REF F508.1 G289]
Gentry, William Richard. "Full Justice": The Story of Richard Gentry and His Missouri Volunteers in the Seminole War. St. Louis: n.p., 1937. [REF F553.4 G29]
Gentry, William Richard. An Old Flag, a Six Year Old Boy, and a Pioneer Soldier. St. Louis: St. Louis Printing Company, 1947. [REF F508.1 G289g]
"History of the Gentry Family was an Epic of Courage." A History of Columbia and Boone County. v. 23, pp. 63-69. [REF Vertical File on Gentry Family F9]
Hunt, Doug. Reckless: The Life and Death of Richard Gentry. Columbia: Self-Published, 2010. [REF F508.1 G289h]
"Legend Set in Stone: District Names School after Pioneer." Columbia Daily Tribune. December 16, 1993. [REF Vertical File on Ann Hawkins Gentry]
"Pioneer's Sacrifice Recalled." Columbia Tribune. February 4, 2012. [REF Vertical File on Gentry Family]
Steele, Willard. The Battle of Okeechobee. Miami, FL: Archaeological and Historical Conservancy, 1987. [REF F553.4 St32]
Trout, Carlynn. Notable Women of Missouri. Columbia: Missouri Branch of the American Association of University Women, 2005. pp. 21-22. [REF F508 T758 2005]