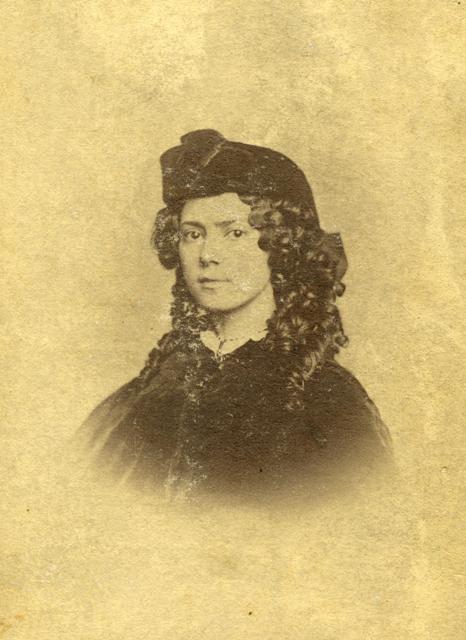 Vinnie Ream
Full Name: Lavinia Ream Hoxie
Born: September 25, 1847
Died: November 20, 1914 (age 67)
Missouri Hometowns: Columbia, St. Joseph
Regions of Missouri: Central, Northwest
Categories: Artists, Women
Vinnie Ream was a sculptor who is best known for her statue of Abraham Lincoln that stands in the rotunda of the United States Capitol in Washington, DC.
Vinnie Ream was born near Madison, Wisconsin, on September 25, 1847, the youngest of three children born to Robert and Lavinia Ream. As a child, Vinnie moved frequently because her father was a land surveyor.
In 1854, when the family moved to Kansas, Vinnie was sent to school in St. Joseph, Missouri. Three years later she attended Christian College in Columbia, Missouri, where her musical and artistic abilities caught the attention of James S. Rollins, a local lawyer, politician, and supporter of the school. Ream's encounter with Rollins proved fruitful in the years to follow.
In 1858 Vinnie rejoined her parents in Fort Smith, Arkansas. By this time Robert Ream no longer worked as a land surveyor, and his efforts to find another job proved futile. In an attempt to find employment, the Reams moved to Washington, DC in 1861.
The Ream family found the nation's capital transformed by the upheaval of the Civil War. Federal troops jammed the streets, army engineers feverishly worked on defense fortifications, and military hospitals were flooded with wounded and dying soldiers.
Due to failing health, Robert Ream could only work part-time. To support her family, Vinnie began working at the post office for $50 a month. Despite her lifelong dreams of becoming an artist, and specifically a sculptor, Vinnie had never seen real statues. She only read about sculpture and looked at pictures of statues in books. After moving to Washington she spent much of her free time studying statues at the U.S. Capitol and in public squares.
While in Washington, Ream reestablished contact with James S. Rollins, who was now a U.S. Congressman. Rollins remembered Vinnie's desire to become a sculptor, and he took her to visit Clark Mills, one of the country's most prominent sculptors. Mills offered Ream the opportunity to work in his studio. Her artistic talents blossomed under Mills's instruction. Ream accepted commissions to create portrait busts of prominent individuals and was soon earning enough money to quit her job at the post office.
Ambitious and confident in her artistic ability, Ream wanted to sculpt a portrait bust of President Abraham Lincoln. She asked Congressman Rollins to help her obtain the president's permission to sculpt a clay model while he worked in his office. Rollins was successful and Ream became a frequent visitor to the White House where she spent a half-hour each day for five months working on a clay model of the president's likeness.
Ream was almost finished with her model when President Lincoln was assassinated. She was deeply affected by his death and later recalled, "He had been painted and modeled before, but when he learned that I was poor, he granted me the sittings for no other purpose than that I was a poor girl. Had I been the greatest sculptor in the world, I am sure that he would have refused at that time."
After Lincoln's death, Congress offered a $10,000 commission for the creation of a statue of the late president. The country's best sculptors competed for the commission. Ream, confident in her artistic skill, was among those who vied for the work and money award.
Senators Charles Sumner and Jacob Howard were skeptical of Ream's ability. In a debate on the Senate floor, Sumner objected to her lack of experience, arguing she "has never made a statue in her life." Senator Howard expressed his belief that because Ream was a woman she would be "a complete failure in the execution of this work."
The majority of their colleagues, however, disagreed and on July 28, 1866, eighteen-year-old Vinnie Ream was awarded the commission. She was both the first woman and the youngest individual to receive a federal art commission. Ream became famous. Visitors crowded into her studio in the U.S. Capitol to watch as she worked on the model of the statue. Among those who visited Ream's studio were General Ulysses S. Grant, suffragist Elizabeth Cady Stanton, and photographer Mathew Brady.
Ream received $5,000 for completing the model. She used the money to travel to Rome and was able to oversee the carving of the marble sculpture of Lincoln. After six months, the sculpture was finished and Ream returned to the United States.
On January 25, 1871, Lincoln's statue was dedicated. President Ulysses S. Grant, members of Congress, and other dignitaries were in attendance. Ream received an additional $5,000 for the completed statue.
She continued to work as an artist in Washington, DC and was a popular figure in Washington society. Known for her charm, she received numerous marriage proposals. One of her admirers was Missouri artist George Caleb Bingham who was so taken with Ream that he painted her portrait twice.
In 1872 Ream won a commission to sculpt a statue of Admiral David Farragut. It was her last major work as an artist. After Vinnie Ream's marriage to U.S. Army Lieutenant Richard L. Hoxie in 1878, Hoxie persuaded her to give up her artistic career. At the time it would have been considered improper for a married woman of Vinnie's social status to work as an artist. Together the couple had one son, Richard.
After twenty years, Ream once again began sculpting, though she never again experienced the success of her youth. Vinnie Ream died of uremic poisoning on November 20, 1914, in Washington, DC.
Text and research by Kimberly Harper
References and Resources
For more information about Vinnie Ream's life and career, see the following resources:
Society Resources
The following is a selected list of books, articles, and manuscripts about Vinnie Ream in the research centers of The State Historical Society of Missouri. The Society's call numbers follow the citations in brackets.
"Death Notice of Vinnie Ream Hoxie." University Missourian. November 22, 1914. p. 1. [Reel # 8825]
"Fame Came to Columbia Girl Who Modeled Bust of Lincoln." Columbia Missourian. February 11, 1928. p. 1. [Reel # 7606]
"A Homely Woman's Opinion of a Pretty One." Liberty Tribune. September 14, 1866, p. 1. [Reel # 26665]
"Life Sketch at Death." Columbia Evening Missourian. December 18, 1922. p. 8. [Reel # 7588]
"Miss Lavinia Ream Participated in a Christmas Program." Weekly Missouri Statesman. December 25, 1857. p. 2. [Reel # 7548]
"Miss Vinnie Ream was Educated at Christian Female College in Columbia." Columbia Statesman. August 2, 1872. p. 2. [Reel # 7552]
"Miss Vinnie Ream is Modeling Busts in New York." Columbia Statesman. November 1, 1872. p. 3. [Reel # 7552]
"Vinnie Ream gets $10,000 to do a Marble Statue of Lincoln." Columbia Statesman. August 17, 1866. p. 3. [Reel # 7551]
"Vinnie Ream presented Christian College with portrait of Martha Washington." Columbia Missourian. July 22, 1926. p. 5. [Reel # 7600]
Christensen, Lawrence O., William E. Foley, Gary R. Kremer, and Kenneth H. Winn, eds. Dictionary of Missouri Biography. Columbia: University of Missouri Press, 1999. pp. 638-640. [REF F508 D561]
Cooper, Edward S. Vinnie Ream: An American Sculptor. Chicago: Academy Chicago Publishers, 2004. [REF F508.1 R23co]
Holzer, Harold and Lloyd Ostendorf. "Vinnie Ream: The Girl Who Sculpted Lincoln." 

Civil War

Times Illustrated v. 21, no. 3 (May 1982), p. 26-33 [REF 973.7 C4997 v.21]
Juhl, Paul C. A Curious Iowa Connection: Vinnie Ream and the Statue of Samuel Kirkwood. Iowa City: Brushy Creek Publishing, 2011. [REF F508.1 R23j]
Sherwood, Glenn V. Labor of Love: The Life and Art of Vinnie Ream. Hygiene, CO: SunShine Press, 1997. [REF F508.1 R23sh]
Mary Ream Letter (C0932)
A letter from Vinnie Ream's sister Mary Ream to B. Frank Venable, Jefferson City, Missouri, from Washington, D.C., June 1, 1862. The letter expresses concern over her brother Robert, who is under the command of General Beauregard; speaks of daily visits of James S. Rollins, friend of her sister Vinnie; and refers to lack of gaiety and dances in Washington.
James S. Rollins Papers (C1026)
This collection includes correspondence from Vinnie Ream to U.S. Congressman James S. Rollins.
Outside Resources
These links, which open in another window, will take you outside the Society's website. The Society is not responsible for the content of the following websites: