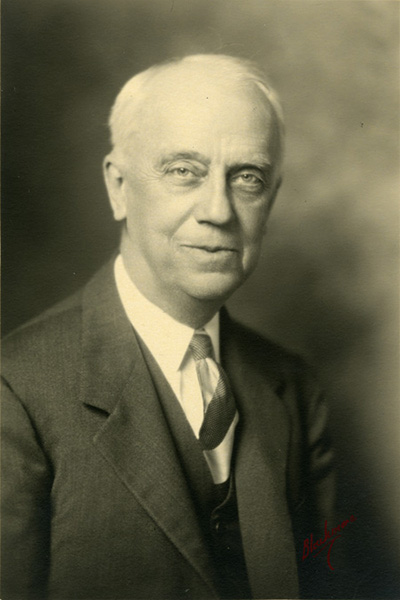 Walter Williams
Full Name: Marcus Walter Williams
Born: July 2, 1864
Died: July 29, 1935 (age 71)
Missouri Hometowns: Boonville, Columbia
Region of Missouri: Central
Categories: Educators, Journalists, Leaders and Activists

Introduction
Walter Williams was one of the most influential journalists in American history. Although he lacked a high school education, Williams became an accomplished newspaper editor who founded the world's first school of journalism at the University of Missouri. Williams's innovative Missouri Method, a process through which students learn journalism through a mixture of classroom instruction and hands-on experience, set high standards for journalism education.
Early Years and Education
Marcus Walter Williams was born on July 2, 1864, in Boonville, Missouri. He was the youngest of eight children (two of whom died in infancy) born to Marcus and Mary Jane Littlepage Williams. The couple met in 1837 while traveling in the same wagon train from Virginia to Missouri. After settling in Boonville, Marcus Williams pursued a variety of occupations, achieving modest success. Southern sympathizers during the Civil War, the Williams family escaped the war relatively unscathed.
Having been born eleven years after the second-youngest Williams child, Walter, as he insisted being called, was the center of his family's attention. His mother and his eldest sister, Susan Ann, taught him to read at an early age. A thin, delicate child with a high, reedy voice, Walter was not fond of athletic pursuits. He spent much of his time reading, studying plants in his parent's garden, and experimenting in an improvised chemistry lab he and his friends created from items scrounged from his father's workshop.
Susan Ann thought Walter would benefit from being outdoors and arranged for him to stay one summer at her father-in-law's farm. Walter later recalled, "I had difficulty making the mules go where I wanted them. In desperation, I urged them on and they bumped into a ravine, taking the plow and me with them. I never liked farming."
At age thirteen Walter stopped attending school and went to work. Although he had not attended classes, he was granted permission to join former schoolmates as a member of the first class to graduate from Boonville High School in 1879. Unable to attend college due to his family's limited finances, Walter instead sought full-time employment.
His mother had long predicted, "Walter will do one of two things. Either he will sit in an editorial sanctum, or he will have a bookstore."  Williams joined the local newspaper, the Boonville Topic, as a printer's devil or apprentice. He was only paid 75 cents a week but he gained invaluable experience, learning the newspaper business from the bottom up.
He performed numerous tasks, including clerical work, setting and cleaning newspaper type, and drumming up new subscription and advertising orders. A natural reporter, Williams began writing articles for the paper, which led to his appointment in 1884 as editor of the Boonville Advertiser at the age of twenty. Williams eventually became one of the paper's owners. His rising reputation within the newspaper industry led to his election as president of the Missouri Press Association in 1889 at the age of twenty-five, the youngest in its history.
Newspaper Editor
When invited by Missouri Governor David R. Francis to become bookkeeper at the Missouri State Penitentiary, Williams accepted, as the salary was more substantial. He was later let go by the prison's warden, but was quickly hired by E. W. Stephens, owner and publisher of the Columbia Herald, to serve as the paper's editor. Williams found in Stephens a kindred spirit who shared his belief in the creation of a professional school of journalism.
While working in Columbia, Williams met Hulda Harned, and after a brief courtship, the two married on June 30, 1892. Together the couple had two sons and one daughter. Williams became an integral part of the local community. He taught a Sunday school class at the First Presbyterian Church that was so popular hundreds of people came to hear his carefully prepared lessons. Williams also helped found the State Historical Society of Missouri in 1898.
Urged by friends and politicians to run for political office, Williams resisted the temptation. He instead focused on guiding the Herald to prominence as a well-respected newspaper. Williams also found time to publish the Country Editor, a trade publication for journalists, and serve as part-time editor for the St. Louis Presbyterian and the Jefferson City Tribune.
1904 World's Fair
At the turn of the century, Missouri boosters began planning an elaborate world's fair to celebrate the centennial of the Louisiana Purchase. The event was to be held in St. Louis, the Gateway to the West and the point of departure for the Lewis and Clark expedition.
Williams was selected by the 1904 World's Fair Commission to write The State of Missouri to promote and highlight the state and its heritage. He was subsequently appointed publicity director for the fair, also known as the Louisiana Purchase Exposition, and ordered to promote the fair to an international audience. Williams embarked on a nine-month world publicity tour to promote the fair, traveling twenty-five thousand miles and visiting twenty-seven countries.
Although there had long been a movement to establish a professional school of journalism, the idea failed to gain momentum until the late 1890s. Williams believed in formal classroom instruction for young journalists, but others believed that journalism had to be learned on the job, not in a classroom.
H.J. Blanton, editor of the Paris (Missouri) Appeal, remembered, "with some degree of amusement the annual resolution E.W. Stephens would lay before the Missouri Press Association…I could not forget the fervor with which Walter Williams always moved its adoption. Just to humor these popular members, all of us would vote for the resolution, then go out behind the barn for a hearty chorus of laughter at the idea of training for journalism anywhere except in the office of a country newspaper."
Unfazed by the lack of support among fellow journalists, Williams pushed for a school of journalism when he was appointed to the University of Missouri's Board of Curators by Governor Lon V. Stephens.
In 1905, the same year Williams became president and a major shareholder of the Columbia Herald, he almost died after contracting typhus. He continued to push for a school of journalism, and in 1906 his dream was realized when the Board of Curators and state legislature gave their approval.
Williams was selected to serve as the first dean of the University of Missouri School of Journalism. As the head of the first journalism school in the world, Williams had to create the program from scratch. The first students arrived on September 14, 1908, as part of a new experiment that would forever change the field of journalism.
Students learned journalism through a combination of classroom instruction and hands-on experience gained by working on a student-produced community newspaper. This way of teaching journalism became known as the "Missouri Method."
Williams taught the History and Principles of Journalism class, though his classroom lectures sometimes left students bored. One student remembered, "His lectures were platitudinous but his personality was inspiring and he commanded respect." Williams emphasized, "There are five I's necessary to success in newspaper work: Independence, Industry, Information, Ideas, and Instinct."
Williams constantly worked to increase the school's national and international prominence. He invited well-known journalists to campus for "Journalism Week" and hosted journalism conferences at the school that attracted dozens of attendees.
A tireless ambassador for journalism, Williams traveled the world, establishing connections between the journalism school and the international community. Students from all over the world came to learn the Missouri Method of journalism. Graduates of the journalism school were hired across the globe, embodying Williams's belief that journalism was "the great, unfinished, fascinating new adventure."
Perhaps one of Williams's most enduring legacies is "The Journalist's Creed," a code of ethics for journalists. The creed advocates truth in reporting, freedom of the press, and the belief that the press should serve the best interests of the public.
University President
In 1918 Hulda Williams passed away from an unknown illness. Nine years later, on October 22, 1927, Williams married a former student, Sara Lockwood, a 1913 graduate of the University of Missouri School of Journalism.  They did not have any children.
After University of Missouri President Stratton Brooks was fired in 1930, Walter Williams was named as Brooks's successor, despite not having attended college. He guided the university through the turbulent early years of the Great Depression, but in 1934 it was discovered that Williams was suffering from prostate cancer. He delayed treatment so he could continue his work. In his last public appearance Williams addressed the University of Missouri graduating class of 1934, urging them, "Do public service. Remember you have taken out of the wealth of the state to obtain that which is yours today. Give back to the state to enrich its common wealth from that which you have obtained at its hands."
Death and Legacy
Shortly before his death in 1935, Williams addressed the graduating class over the telephone, admonishing them, "Live in no sheltered house-board in a tireless eddy, but cast your lot along your own coast, in the swift-moving, however dangerous current of humanity's progress, to higher things, and then paddle your own canoe."
On July 2, 1935, Walter Williams resigned the presidency of the University of Missouri. He died at home on July 29, 1935, and is buried in Columbia Cemetery.
In 1936 a new journalism building at the University of Missouri was named in Walter Williams's honor. During his lifetime, he received numerous honorary degrees, including honorary doctorates from Missouri Valley College, Washington University, and Kansas State University. A bronze bust of Walter Williams was dedicated outside of Boonville City Hall in 2003 in honor of his many accomplishments.
Williams's legacy as a journalist and an educator lives on in the University of Missouri School of Journalism and the work of the thousands of students who have graduated and made important contributions as journalists.
Text and research by Kimberly Harper
References and Resources
For more information about Walter Williams's life and career, see the following resources:
Society Resources
The following is a selected list of books, articles, and manuscripts about Walter Williams in the research centers of The State Historical Society of Missouri. The Society's call numbers follow the citations in brackets.
"Dean Walter Williams Leaves for the Orient."  Columbia Missourian. June 30, 1927. p. 1. [Reel # 7603]
"Dr. Walter Williams, Founder of First Journalism School, Dies after Lingering Illness." Columbia Missourian. July 30, 1935. p. 1. [Reel # 7624]
"'The Missouri Dialect.' From an Address Delivered before the University Club of Kansas City by Walter Williams." Boonville Weekly Advertiser. September 15, 1911. [Reel # 1770]
"Photo Showing Dean Walter Williams Receiving First Telephoto Print Used in Missourian." Columbia Missourian. May 16, 1927. p. 1. [Reel # 7603]
"Walter Williams Appointed Member of the Board of Curators of the State University by Governor Stephens." Jefferson City State Tribune. May 23, 1899. p. 1. [Reel # 17259]
"Walter Williams Appointed Member of the Missouri University Board of Curators by Governor Folk." Jefferson City Tribune. January 19, 1905. p. 1. [Reel # 17261]
"Walter Williams Portrait Presented to the School of Journalism." Columbia Missourian. May 13, 1926. p. 1. [Reel # 7599]
"Walter Williams Retires as Editor of the Columbia Herald." Jefferson City Missouri State Tribune. December 6, 1902. p. 4. [Reel # 17215]
Books & Articles
Christensen, Lawrence O., William E. Foley, Gary R. Kremer, and Kenneth H. Winn, eds. Dictionary of Missouri Biography. Columbia: University of Missouri Press, 1999.  pp. 807–8.  [REF F508 D561]
Cosgrove, Elizabeth Williams. An Old House Speaks. St. Louis: Horace Barks Printing Co., 1943. [REF F508.2 W671]
Ellard, Roscoe B., ed. "In Memoriam: Walter Williams: 1864–1935."  University of Missouri Bulletin. v. 37, no. 5 (1936). pp. 1–79. [REF 508.1 W676]
Farrar, Ronald T. A Creed for My Profession: Walter Williams, Journalist to the World. Columbia: University of Missouri Press, 1998. [REF F508.1 W676fa]
Rucker, Frank W. Walter Williams. Columbia: Missourian Publishing Association, 1964. [REF F508.1 W676r]
Weinberg, Steve. A Journalism of Humanity: A Candid History of the World's First Journalism School. Columbia: University of Missouri Press, 2008. [REF UMC 378.778 ZJ22]
Outside Resources
These links, which open in another window, will take you outside the Society's website. The Society is not responsible for the content of the following websites:
The J-School Legacy
The University of Missouri School of Journalism website features the full text of Walter Williams's "The Journalist's Creed."
University of Missouri Archives
The University of Missouri Archives has multiple collections that contain information about Walter Williams.