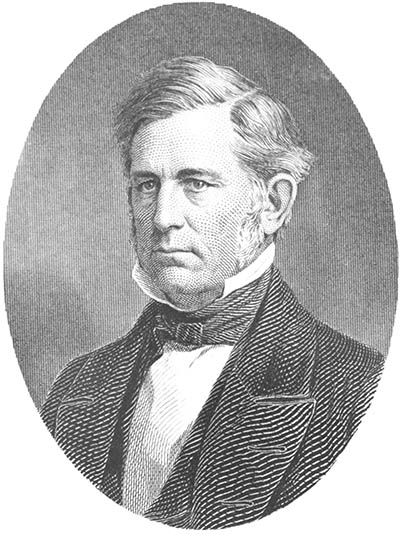 Joseph Charless
Born: July 16, 1772
Died: July 28, 1834 (age 62)
Missouri Hometown: St. Louis
Region of Missouri: St. Louis
Categories: Entrepreneurs, Journalists
Joseph Charless was a printer. He founded the St. Louis Missouri Gazette, the first newspaper published west of the Mississippi River.
He was born "Joseph Charles" on July 16, 1772, in Killucan, County Westmeath, Ireland, the only son of Edward and Ann Chapman Charles. When he immigrated to the United States in 1795, Charless changed the spelling of his last name to reflect the proper Irish pronunciation of his surname, "Char-less."
After settling in Pennsylvania, Charless drew upon his experience as a printer in Ireland to found a press, open a bookstore, and publish a newspaper, the Mifflin Gazette. In 1798 he married a widow, Sarah Jordan McCloud, and became stepfather to her son, Robert. Together the couple had five children.
Charless moved west to Lexington, Kentucky, where he printed the Independent Gazetteer. Later he began publishing the Louisville Gazette. It was in Missouri, however, that Joseph Charless made his greatest mark as a printer.
The role of a printer and newspaper publisher in early America was an important one. Newspapers, along with personal letters, were the only way that news traveled across vast distances before the invention of the telegraph.
Early newspapers contained ads, legal notices, lists of individuals who had letters at the post office, and local, national, and foreign news. Newspapers then, as they do now, also served a greater purpose beyond bringing information to the public. They provided citizens with an outlet to freely express their opinions and debate ideas.
Newspapers also became an important part of the historical record. Few other sources document the social, cultural, and political life of communities better than the local press.
Before Charless arrived in St. Louis, its residents had long been frustrated by the absence of a press. In 1805 General James Wilkinson, then governor of Louisiana Territory, lamented the lack of a printing press in a letter to U.S. President James Madison. If the territorial government needed a law printed, Wilkinson informed Madison, it had to be sent to Kentucky to be printed and then sent back to St. Louis.
It was not until 1808 that St. Louis finally acquired a printing office and a newspaper. Meriwether Lewis, who followed Wilkinson as territorial governor, enticed Charless to move to St. Louis by offering him a contract to publish official territorial laws and documents.
On July 12, 1808, Joseph Charless printed the first issue of the Missouri Gazette. The Gazette was an English-language weekly paper, but Charless, conscious of the French-speaking citizens of St. Louis, published up to three columns in French. By today's standards, it was small, just four pages long and 8 ¼ by 12 ½ inches in size. The paper's initial subscription list was also miniscule: only 174 individuals signed up for the paper prior to its publication. The masthead of the paper proudly proclaimed, "Truth without Fear."
As the first printer in Louisiana Territory, Charless printed the first compilation of territorial laws and also produced custom printing orders for the general public.
Life as a frontier printer was not easy. When the mail failed to arrive, Charless had little national and international news to report in the Gazette. He also faced ink and paper shortages, and he had difficulty finding experienced workers and getting subscribers to pay their bills.
Charless also encountered individuals who did not agree with his editorial opinions. He expressed his belief in limiting the spread of slavery and openly challenged the social and political elite of St. Louis when he felt they threatened the public good. Influential citizens, such as Senator Thomas Hart Benton, clashed with Charless.
Charless's outspokenness led to threats and even physical altercations. On one occasion, Major William Christy, land agent William C. Carr, and justice of the peace Clement B. Penrose armed themselves and confronted Charless at his office over an article that was less than complimentary about General Benjamin Howard, then governor of Louisiana Territory. Despite being threatened, Charless refused to reveal the identity of the author and later wrote in the Gazette, "I shall preserve the Liberty of the Press as long as I am able to control one, and when I become the humble tool of factious men, I shall no longer hope to merit support."
On another occasion, Charless was attacked by Isaac N. Henry, one of the editors of the St. Louis Enquirer, after Charless insulted Henry in an article published in the Gazette. The two men fought with their fists and wooden clubs until the fight was stopped.
After years of sparring with his foes in the streets and on the pages of the Gazette, Charless decided to retire. In 1820 he sold the Gazette to James C. Cummins. Cummins renamed the paper the Missouri Republican and later sold it to Charless's son, Edward. The Missouri Republican was later renamed the Republic and remained in publication until 1919.
After leaving the newspaper business, Charless worked as a pharmacist, dabbled in real estate, and ran a boardinghouse. He died on July 28, 1834, in St. Louis, and is buried in Bellefontaine Cemetery.
Text and research by Kimberly Harper
References and Resources
For more information about Joseph Charless's life and career, see the following resources:
Society Resources
The following is a selected list of books, articles, and manuscripts about Joseph Charless in the research centers of The State Historical Society of Missouri. The Society's call numbers follow the citations in brackets.
St. Louis Missouri Gazette, 1808–1820.
Joseph Charless served as editor of the newspaper for twelve years.
"An account of the fight between Isaac N. Henry, one of the editors of the St. Louis Enquirer, and Joseph Charless." St. Louis Missouri Gazette. May 17, 1820. p. 3, c. 2. [Reel # 41287]
"Death Notice." St. Louis Missouri Intelligencer. August 9, 1834. p. 3, c. 3. [Reel # 7540]
"Opens Drug Store in St. Louis." St. Louis Missouri Republican. June 15, 1826. p. 3, c. 3. [Reel # 41299]
"Transfers the Missouri Gazette to J. C. Cummins, and publishes the history of the Gazette and his struggle as its editor." St. Louis Missouri Gazette. September 13, 1820. p. 3, c. 2. [Reel # 41287]
Christensen, Lawrence O., William E. Foley, Gary R. Kremer, and Kenneth H. Winn, eds. Dictionary of Missouri Biography. Columbia: University of Missouri Press, 1999. pp. 162–163. [REF F508 D561]
Conard, Howard L., ed. Encyclopedia of the History of Missouri. New York: The Southern History Company, 1901. pp. 567–569. [REF F550 C743 v. 1]
Kaser, David. Joseph Charless: Printer in the Western Country. Philadelphia: University of Pennsylvania Press, 1963. [REF F508.1 C38K]
Williams, Walter, and Floyd C. Shoemaker. Missouri, Mother of the West. Chicago: American Historical Society, 1930. pp. 345–346. [REF 550 W676 v. 1]