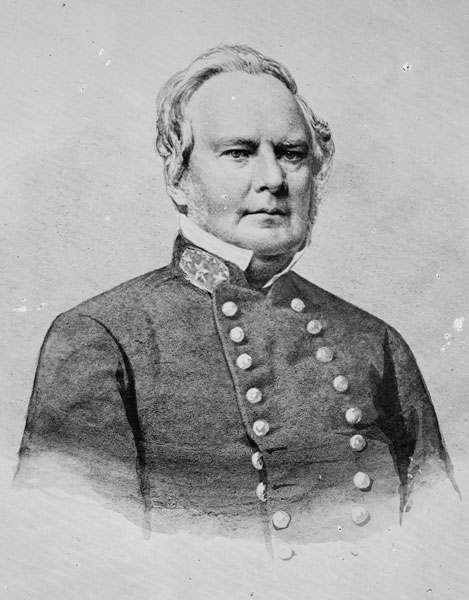 Sterling Price
Born: September 11, 1809
Died: September 29, 1867 (age 58)
Missouri Hometown: Keytesville
Regions of Missouri: Central, Northeast
Categores: Military Leaders, Politicians

Introduction
Sterling Price was elected Missouri's 11th governor in 1852. After serving as speaker of the Missouri House, he became a U.S. Congressman, and then sided with the Confederacy during the Civil War as a colonel and then brigadier general. Price ended his career as a soldier and remained loyal to the Southern cause until his death.
Sterling Price was born in Virginia on September 11, 1809, to Pugh and Elizabeth Price. His father was a prosperous tobacco planter. In 1830 the family established a farm near Keytesville, Missouri.
Price first worked in a store and tobacco sales before investing in land. He married Martha Head in May 1833. Because of his father's vast landholdings and those of his father-in-law Judge Walter Head, Price gained status and popularity in the region.
Price entered politics as a Democrat where the party was dominant and was elected to the state House of Representatives in 1838 and 1840. During the latter session, he was elected as speaker. Price also achieved economic success as a tobacco planter, merchant, and by establishing a tobacco warehouse at Keytesville.
In 1844 Price was elected to the U.S. House of Representatives. After the United States went to war with Mexico, Senator Thomas H. Benton obtained a commission for Price to raise a regiment. Serving under General Stephen W. Kearney, Price and his regiment participated in the campaign on Santa Fe, which then was a part of Mexico.
In January 1847 Price put down an insurgency against American forces in what is now Taos, New Mexico. This incident, which was a minor affair at most, was used by Price's political allies to obtain a brigadier-general commission for him. Professional soldiers and others criticized this action as political cronyism, noting that other military men deserved the promotion more.
Perhaps smarting from this criticism, Price disobeyed War Department orders and led his men south to attack a Mexican unit at Santa Cruz de Rosales. Even though a peace treaty had been signed between the U.S. and Mexico, Price's troops killed 200 Mexicans there, many of whom had surrendered. This questionable use of force was celebrated by his friends and helped improve his political interests in Missouri, where he was elected governor in 1852. While in the Governor's Mansion, Price vetoed infrastructure projects, which he believed were unnecessary or better financed locally.
Governor Price and Slavery
During his term as governor, Price supported many of the policies of Stephen A. Douglas, U.S. Senator from Illinois, including the middle route for a transcontinental railroad and the 1854 Kansas-Nebraska Act. This bill ended the agreement between the North and South to prohibit slavery in the Louisiana Territory above the Missouri Compromise line. Instead, Douglas proposed "popular sovereignty," a policy allowing the territories' inhabitants to decide whether or not to allow slavery there.
Like many southerners, Price believed that popular sovereignty could be used as a Trojan horse to introduce slavery where it was not legal before. Taking advantage of this opening, many proslavery Missourians organized military expeditions into Kansas and attacked opponents of slavery. Some even illegally participated in territorial elections. As governor, Price did nothing to prevent Missourians from committing these actions.
After serving as governor, Price attempted to establish a local railroad line and became president of the Chariton and Randolph County Railroad Company. This enterprise failed during a substantial economic downturn. This setback affected his other business interests and almost led to his financial ruin. However, because of his extensive political connections, Price obtained an appointment as state bank commissioner helping to improve his financial circumstances.
Taking Sides During the
Civil War
After the election of Abraham Lincoln, many of the Deep South states seceded. The question of whether Missouri would join them became an important issue, especially because of the election of Claiborne Fox Jackson as governor. During the 1860 campaign, Jackson, like Price, had supported the Democratic presidential candidate Douglas, who was strongly opposed to secession. Jackson, however, was more devoted to the South than to the Union. This fact quickly became clear after his inaugural address. While Price's Unionism was stronger than Jackson's, subsequent events proved it was at best nominal and weak.
In February 1861 Price sought election as a Conditional Unionist delegate to a state convention, which the state legislature had created to decide if Missouri would remain in the Union. At the convention, Price as a former governor was elected by his fellow delegates to preside over the proceedings and thus did not take part in the debates. In the end, the convention rejected secession and urged Missouri to act as a mediator between the North and South to help find a peaceful solution to the crisis.
Until Nathaniel Lyon led Union forces to capture a state militia camp near St. Louis, Price apparently remained undecided about what course he would take during the war. While marching the captured militiamen to the St. Louis Arsenal, Lyon's troops fired into a group of civilians who apparently attacked them in some manner. The details of this incident remain controversial and unclear. Each side held the other responsible, leading to greater divisions among Missourians. Price, who witnessed the event, immediately traveled to Jefferson City to offer his military services to Governor Jackson. After some hesitation, Jackson appointed him to command the state militia.
General Price in Missouri
Price's first act as general was to negotiate an agreement with Federal commander William S. Harney to prevent hostilities between the state and federal forces. According to their agreement, Price pledged to keep the peace in return for Harney's promise not to make any military movements. It became clear to many Unionists, however, that Price either could not or would not hold up his end of the bargain. Soon after this agreement, many Unionists from various parts of the state were attacked and driven from their homes. This circumstance led to Harney's removal and Nathaniel Lyon being installed temporarily as the new federal commander in Missouri.
In a heated conference with Price and Jackson, Lyon rejected any agreement with them and soon moved his forces on Jefferson City, capturing it on June 15, 1861. He next defeated Price's forces at Boonville on June 18. Governor Jackson and many of the state legislators fled before Lyon. On August 10, the Battle of Wilson's Creek was fought by Lyon against the combined forces of Price and Ben McCulloch. Outnumbered, Union forces were defeated. Despite this victory and the capture of a force at Lexington in northwestern Missouri, Price was unable to retake Missouri, which remained in Union hands throughout the war.
By the end of 1861, Lincoln appointed Henry W. Halleck as the new federal military commander in Missouri. To deal with guerrilla uprisings, Halleck ordered the summary execution of guerrillas captured in the field, especially those destroying bridges and railroad property. He also established military commission courts to try persons suspected of violating military law. These guerrilla activities had already caused great loss of life and property to civilian supporters of the Union, and to some southern sympathizers as well.
Price, who had commissioned Missourians to operate in this fashion, protested Halleck's orders. According to the laws of war, Halleck's measures were legal while Price's were not. In his reply, Halleck made clear that Price's encouragement and commissioning of guerrilla commanders was not only illegal, but inhuman and cruel to Missourians wishing to remain at home in peace. That Price continued this policy throughout the conflict demonstrated a reckless disregard for the laws of war and humanity.
Fighting in Arkansas and Mississippi
In March 1862, in northwestern Arkansas at Pea Ridge, Price joined Ben McCulloch and Earl Van Dorn to fight a federal army led by General Samuel R. Curtis. After being soundly defeated, the Confederates retreated south. Price, who by this time was commissioned a major general in the Confederate military, was ordered to Memphis. Price met with Confederate President Jefferson Davis in June. After quarreling with the chief executive, Price tendered his resignation, although later he was persuaded to retract it.
In September Price captured a supply depot at Iuka, Mississippi, and escaped General Ulysses S. Grant's attempt to encircle and trap him there. Price and his men participated in the Battle of Corinth, Mississippi, which resulted in disastrous casualties for the Confederates and forced their retreat.
In March 1863 Price was sent to Arkansas to serve as divisional commander under General Theophilus Holmes. The Confederate authorities hoped that Price could raise significant numbers of troops to participate in the attack upon Helena, Arkansas. This campaign was unsuccessful and ended in severe casualties. Despite this, the following year Confederate troops eventually pushed federal forces back to Little Rock, but no farther.
In September 1864 Price led an expedition into Missouri, hoping to capture St. Louis and the state. With 12,000 men, a portion of whom were unarmed, Price attacked Fort Davidson in Iron County, which was held by less than 1,000 men. Despite his superior numbers, Price failed to take the fort, resulting in extensive casualties and the escape of the garrison.
Realizing that he could not take St. Louis, Price moved upon Jefferson City. Finding the defenses formidable there as well, he next turned westward, fighting a series of battles with federal forces under the command of General William Rosecrans in Missouri. After suffering major defeats and losses to his forces without gaining any corresponding advantage, Price retreated to Arkansas.
With the war lost, Price emigrated to Mexico in June 1865. However, he and his followers soon found their situation unfavorable and he returned to Missouri in January 1867. Admirers provided Price with a house in St. Louis and other financial aid. He died on September 29, 1867, and was buried in Bellefontaine Cemetery.
Sterling Price earned the respect of many Missourians as a fiscally responsible governor and patriotic soldier. His career was shaped by the turmoil and division of the Civil War, and Price became a major figure in the war's western battles. A monument was erected in his memory in Keytesville in 1915.
Text and research by Dennis Boman
References and Resources
For more information about Sterling Price's life and career, see the following resources:
Society Resources
The following is a selected list of books, articles, and manuscripts about Sterling Price in the research centers of The State Historical Society of Missouri. The Society's call numbers follow the citations in brackets.
Castel, Albert. General Sterling Price and the Civil War in the West. Baton Rouge: Louisiana State University Press, 1968. [REF  F554.1 C275]
Christensen, Lawrence O., William E. Foley, Gary R. Kremer, and Kenneth H. Winn, eds. Dictionary of Missouri Biography. Columbia: University of Missouri Press, 1999. pp. 625-627. [REF F508 D561]
Rea, Ralph R. Sterling Price: The Lee of the West. Little Rock, AR: Pioneer Press, 1959. [REF F554.1 R22s]
Reynolds, Thomas C. General Sterling Price and the Confederacy. St. Louis: Missouri History Museum, 2009. [REF  F508.1 P931sch]
Shalhope, Robert E. Sterling Price: Portrait of a Southerner. Columbia: University of Missouri Press, 1971. [REF F508.1 P931s]
Outside Resources
These links, which open in another window, will take you outside the Society's website. The Society is not responsible for the content of the following websites: